Uncompromising quality control. High quality achieved with state-of-the-art machines and skilled workers.
We manufacture dies, however, we always have clear awareness of quality of final products to be manufactured with our dies. We perform quality inspection under our unique and strict inspection criteria to determine whether or not our products can be presented to our customers.
Quality check by skilled engineers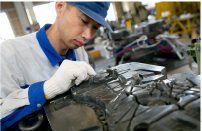 Our company, devoted only to die manufacturing, has been carrying our manufacturing DNA since its foundation. Whether workmanship of finished dies is good or not is checked through the five senses of skilled and well-experienced engineers. The engineers can find any subtle irregular reflection of light or roughness on the surface of a die and correct it to achieve the desired workmanship in the completed product.
3D inspection machine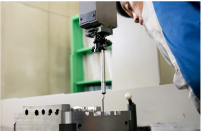 The 3D inspection machine checks whether a particular die has been manufactured as defined in the specifications based on the CAD data. Uogishi Seiki has two 3D inspection machines to allow use of a rigid inspection in 10μ unit. Some products may require several days of checking.
Quality control with check sheet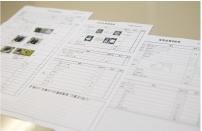 Uogishi Seiki performs quality control using a check sheet. Various inspection items including the item checked in the manufacturing process and the accuracy in finishing work are collected on a sheet that helps us reduce possible errors and problems in the process and maintain high-level of quality.
---
Certification to ISO 9001:2000
Our company was ISO certified on November 7, 2003 aiming to enhance customer satisfaction. Since then, as a company who provides safe products and reliable service to customers on basis of "Customers First," we have established our unique quality management system and have been working on system maintenance and improvement.
Date of certification
November 7th, 2003
Certificate No.
00849-2003-AQ-RVA/JAB
Certification scope
Design and manufacturing dies
Certification body
DNV
Det Norske Veritas (Norway)
Accreditation body
JAB
Japan Accreditation Board
RVA
Raad voor Accreditatie (The Netherlands)