HOME

>

TECHNOLOGY

>

Accuracy

Accuracy within ±10μ and withstanding pressure of several hundreds of tons
In the die casing manufacturing process, the dies are heated to over 200℃, and are also injected with about 700℃ molten metal (aluminum alloy, magnesium alloy, etc.) at a speed of several tens of meters per second, subjected to instantaneous overpressure of several hundreds of tons. These metal dies need to withstand this series of harsh manufacturing conditions several hundreds of thousands of times. Product quality for commercial production with accuracy within +/- 10μ. We at Uogishi Seiki are proud to be able to satisfy these delicate and aggressive conditions.
Our commitment to high precision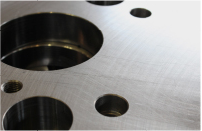 Uogishi Seiki has been striving for accuracy in our products since its foundation. An accuracy of 1/100 mm and the durability of our products achieved through our high-precision mechanical work by machines and manual finishing work by skilled workers have assured high reliability.
Inspection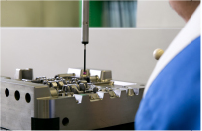 We perform careful inspection with our 3D inspection machines at an average 300 or grater inspection points. Our company uses either of two different 3D inspection machines, depending on the product standards. A product is precisely checked with its 3D model that has computerized all of the product geometry information. The checklist used for inspection is to be attached to the product as a warranty at the time of delivery.
Integrated production based on digital management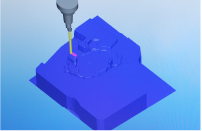 Our company digitally manages the entire process from design to manufacturing. Our full utilization of these 3D models enhances efficiency and allows stabile quality. We perform integrated quality control by utilizing various different case studies obtained from our accumulated experience with over 7,000 types of dies.
Quality control flow with 3D model
Receive a 3D model for a particular type 

→ Quality check,Die modification

Receive a drawings 

→ 3D profile modeling

Die design with 3D solid model
Analysis of molten metal flow and solidification with casting analysis CAE
Creation of machining data with 3D CAD/CAM
Improvement of efficiency in machining data and quality check with 3D solid simulator
Manual finishing work skills to achieve such workmanship that cannot be achieved by machine
Some finishing work that cannot be done even with our high-precision machines is handled by skilled workers. Some part of such finishing work may relate to die durability, and therefore lie in the manual finishing work, Uogishi Seiki's past performance and customer feedback information are reflected.